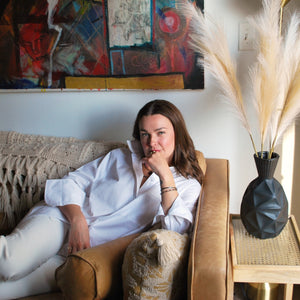 About the Artist
Lindsey grew up in the Pacific Northwest. For as long as she can remember, she's been tinkering with bits and bobbles to create jewelry. Like many fellow jewelers, beading was the gateway into her refined craft. College led her to the Fashion Institute of Design and Merchandising in Los Angeles, and eventually New York City, where she had a successful career in the fashion design industry. She always knew jewelry was her true calling, and in 2016 she decided to take the leap and follow her true passions of creating her own line of unique, predominantly one of a kind jewels. Lindsey works primarily in lost wax casting, making each piece lovingly created for the stone that is being showcased. Lindsey hand casts each of her settings to beautifully house nature's hardest and most durable stones—like diamonds and sapphires—among many other precious gems.
Lindsey currently lives and works in Boulder, CO with her husband and two pups. The pandemic brought on the urge to get a little closer to family and the great outdoors. When not working away in her studio, she can be found cooking, snowboarding, fishing, or hiking in the nearby forests she now gets to call home.
Mission
We are focused on making wearable art pieces utilizing recycled materials whenever possible. Out with "Fast Fashion" and in with slow and intentional designs made to wear for years to come.