Intentionally Designed Unique Jewelry
Made of recycled metals and ethically sourced stones. Wearable artwork meant to make a statement.
Shop Jewelry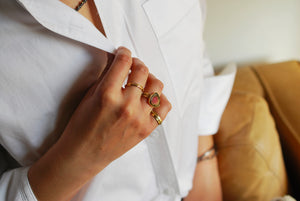 New Jewelry for Every Occasion
Explore new necklaces, rings, earrings, and bracelets.
Shop New
Karat / Collection
Primarily one-of-a-kind jewelry made of 10k and 14k recycled yellow gold. Crafted to be future family heirlooms.
Shop now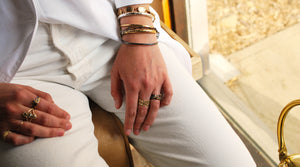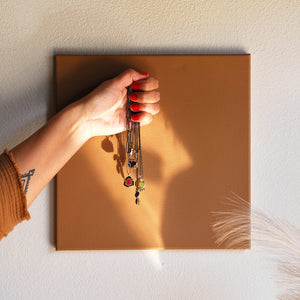 We believe in the beauty of the perfectly imperfect stone.
Each piece chosen has its very own unique setting made of wax, to showcase its individual beauty. These one of a kind statement pieces are made with ethically sourced stones and recycled metals of yellow gold and oxidized sterling silver for a rough, yet refined look just waiting to be your family's future heirlooms.
Shop Jewelry
"
I can't say enough great things about my beautiful ring. Absolutely love the quality & beauty. As an extra bonus the shipping was extremely fast. So happy with this piece.

"
About the Artist
Lindsey grew up in the Pacific Northwest. For as long as she can remember, she's been tinkering with bits and bobbles to create jewelry. Like many fellow jewelers, beading was the gateway into her refined craft. College led her to the Fashion Institute of Design and Merchandising in Los Angeles, and eventually New York City, where she had a successful career in the fashion design industry. She always knew jewelry was always her true calling, and in 2016 she decided to take the leap and follow her true passions of creating her own line of unique, predominantly one of a kind jewels. Lindsey works primarily in lost wax casting, making each piece lovingly created for the stone that is being showcased. Lindsey hand casts each of her settings to beautifully house nature's hardest and most durable stones—like diamonds and sapphires— among many other precious gems.
Learn More